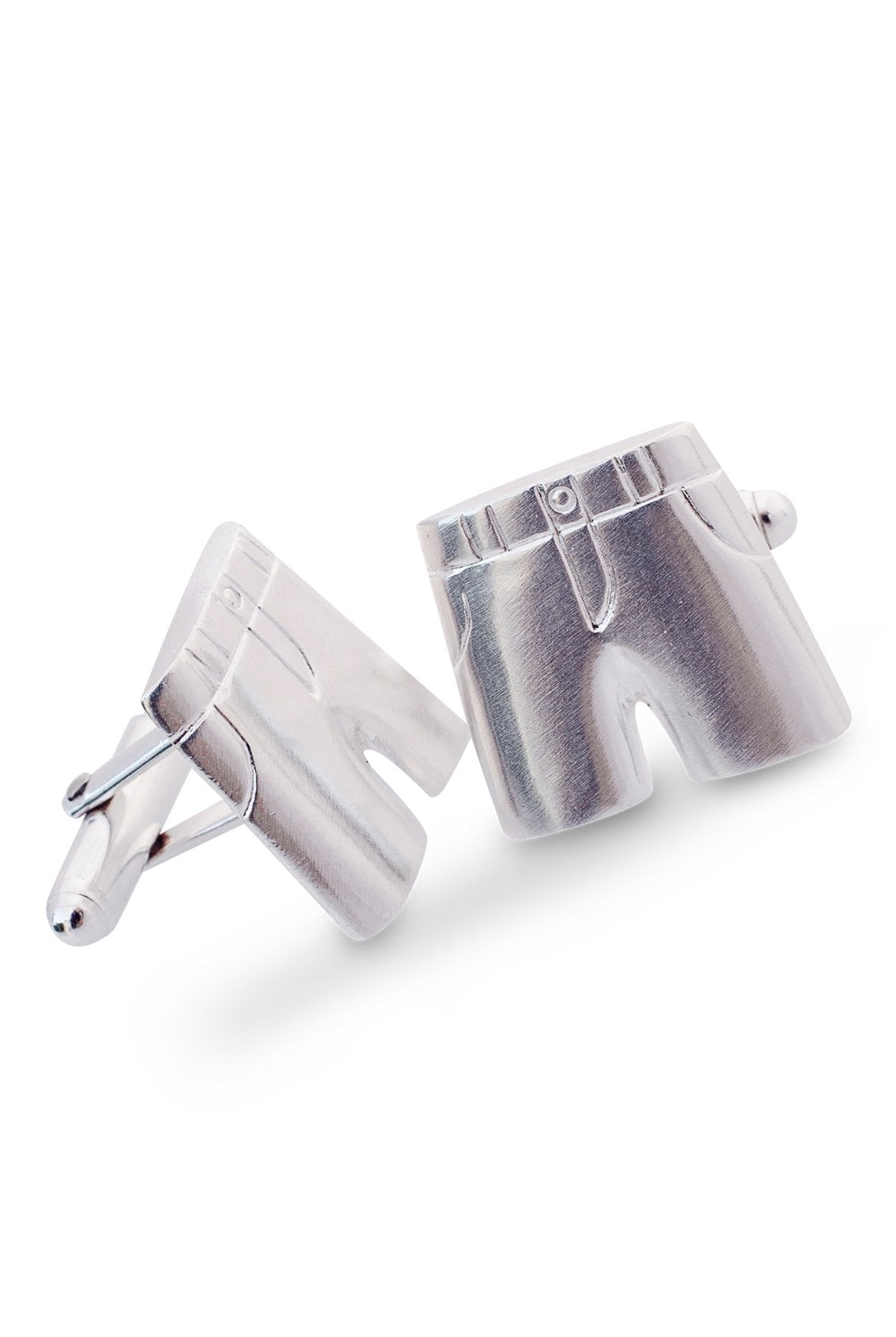 Men's Nautical ~ Bermuda Shorts Cufflinks
Pickup available at Flagship Store
Usually ready in 1 hour
Men's Nautical ~ Bermuda Shorts Cufflinks
Silver
Flagship Store
Pickup available, usually ready in 1 hour
5 Front Street
Hamilton HM 11
Bermuda
+14412369009
Living in Bermuda it is incredibly easy to get lost in its sea of colors. From the turquoise waters and pink sand to the rainbow (of color) you see walking down Front Street… businessmen in their Bermuda Shorts! While my inspiration often stems from the island's fascinating flora and fauna, I'm just as captivated by traditions and cultures like these that make us who we are.
 An iconic staple piece in men's fashion since the early 1900s, Bermuda Shorts were originally designed for the British army when they quickly realized a more suitable uniform was needed for the tropical weather. A short that ended above the knee was the solution, and although some considered the length inappropriate, Bermuda is the only country in the world where shorts are the national attire! With my Bermuda Shorts cufflinks, you can wear shorts all year round (and you don't have to worry about showing too much leg). 
Alexandra's Bermuda Shorts measures 18.8mm wide x 17.5 high
If you have any queries about this piece or ordering online, please don't hesitate to enquire at 441-236-9009 or hello@alexandramosher.com. We'd be delighted to help you pick the perfect piece.
International Shipping
Yes! We ship all over the world with DHL and it's Free for orders over $150. We offer discounts and promotions all year, so sign up for our emails and stay tuned for exclusive deals.
International shipping via DHL usually takes 2-4 weekdays, but can take up to 10 days to some areas. Each shipment is insured, and you will receive tracking information via email.
Bermuda Delivery
Yes! And it's FREE! We have free next-day, island-wide delivery.
Absolutely! Simply select "Pick-up" at checkout, and it'll be ready within 20 minutes.
Returns & Exchanges
You may Return or Exchange your jewellery within 30 days of purchase. All merchandise returned for refund or exchange must be in perfect, sellable condition in its original packaging.  All returned items accompanied by an original receipt can be refunded to the original credit card used.  We will provide a gift card for the full value of the returned items when accompanied with a gift receipt, or if no receipt is available.  We will provide a gift card for the full value of the items returned beyond 30 days and up to 90 days of purchase.  No refunds or exchanges are available beyond 90 days of purchase.
If you wish to return or exchange your jewellery and you do not live in Bermuda, please drop us a message, providing us with the details of the item you are returning, your name, address, order number, and the reason for the return. We will then provide our return address and assist you in having the jewellery sent to us.  Exchanges will incur a $20 shipping charge for the new item(s).
You can contact us through our contact page! We will be happy to assist you.
Jewellery Care
Write content to help your customers to better understand your products or policies.
The secret to preventing tarnish on sterling silver is to keep it clean, store it sealed off from air, humidity and chemicals. Put your jewellery on after you have finished styling hair and makeup.  If the sterling does tarnish, use a silver polishing cloth or mild silver cleaner and dry thoroughly.  We highly recommend using "Goddard's Silver Dip" (which is available at Gorham's in Bermuda, or on Amazon worldwide) to keep your silver jewellery looking bright. Goddard's Silver Dip is great to use on our pink sand silver jewellery. Follow the instructions on the jar, and be sure to rinse the solution off entirely, dry your piece thoroughly, and if possible, store it in an air-tight ziplock bag when you are not wearing it.  
Your pink sand jewellery can be gently cleaned with water and hand soap and dried with a soft cloth. To protect against scratches, store your pink sand jewellery wrapped in tissue or cloth to protect it.  It's best to not submerge your Alexandra Mosher Studio Jewellery pieces in water for a long period of time. We recommend taking it off before bathing, showering, or swimming.  
Gently wash your pieces with gentle hand soap and an old toothbrush to remove dirt, rinse well and dry completely with a soft cloth. Maintain your jewellery's shine by avoiding contact with agents such as perfume, lotion, makeup, hair & cleaning products. Always remove your jewellery before swimming and exercising. Store your gold jewellery in its pouch or lined box when you're not wearing it. If your design has prongs, please have them checked every year either by us or a jeweller in your area.