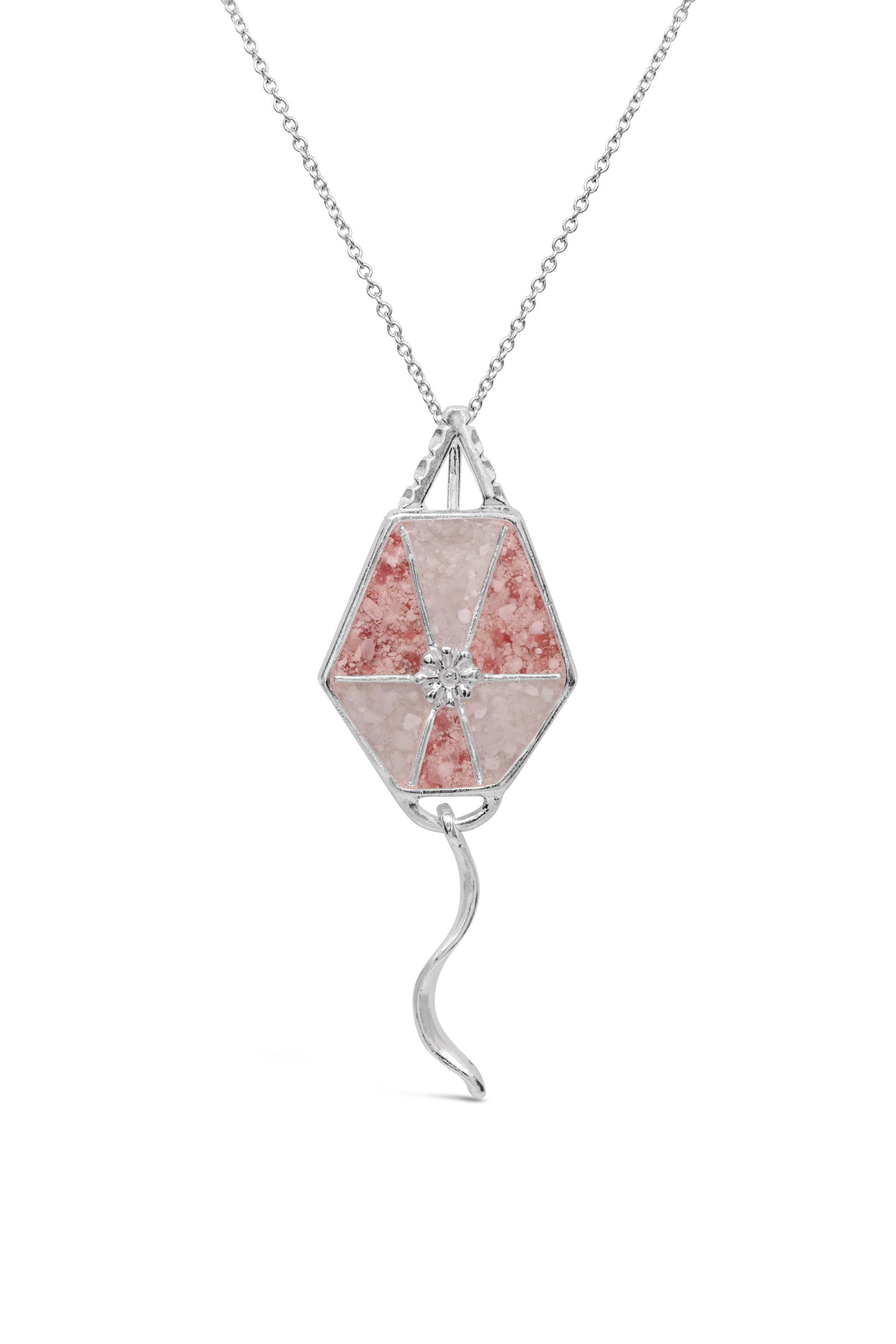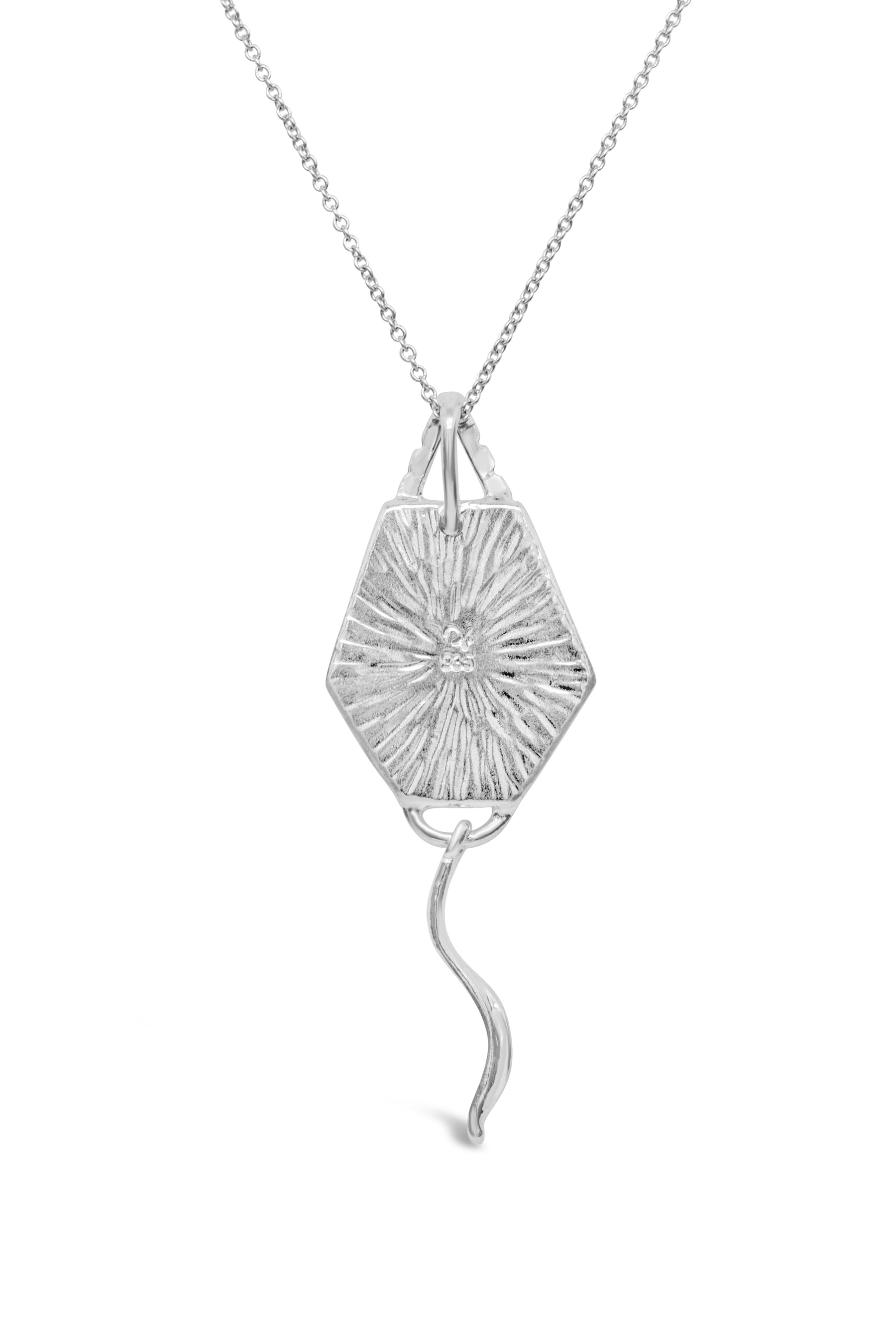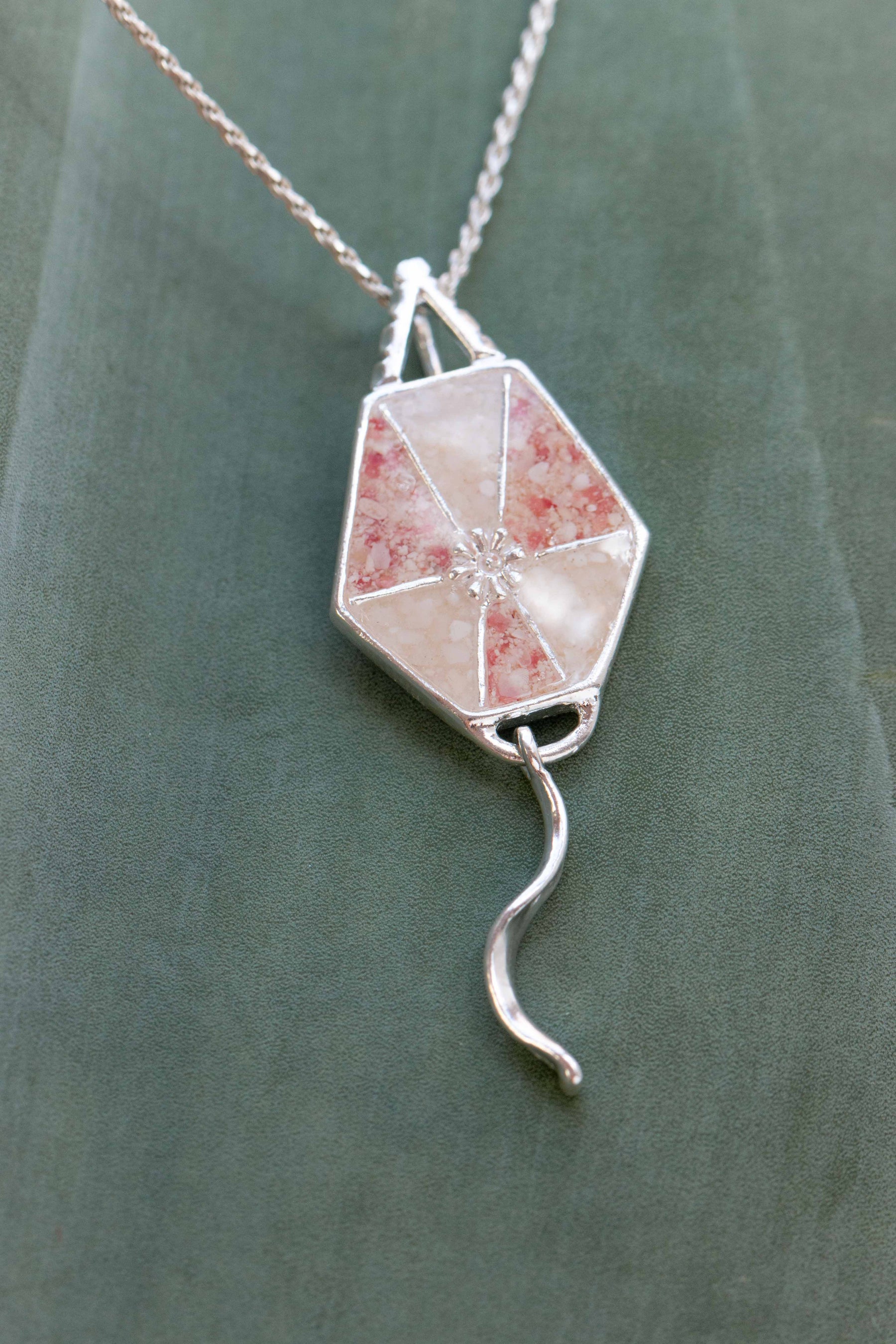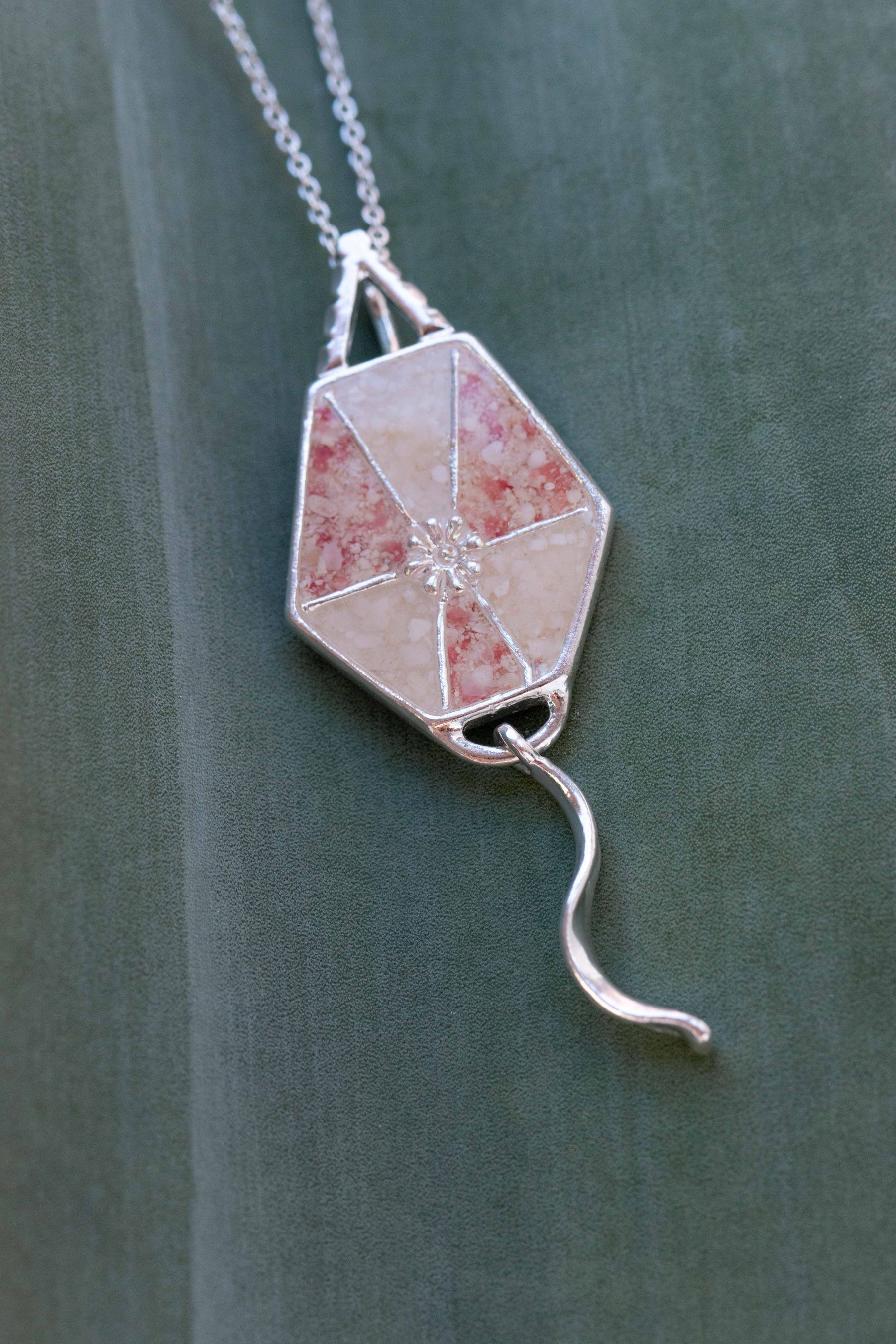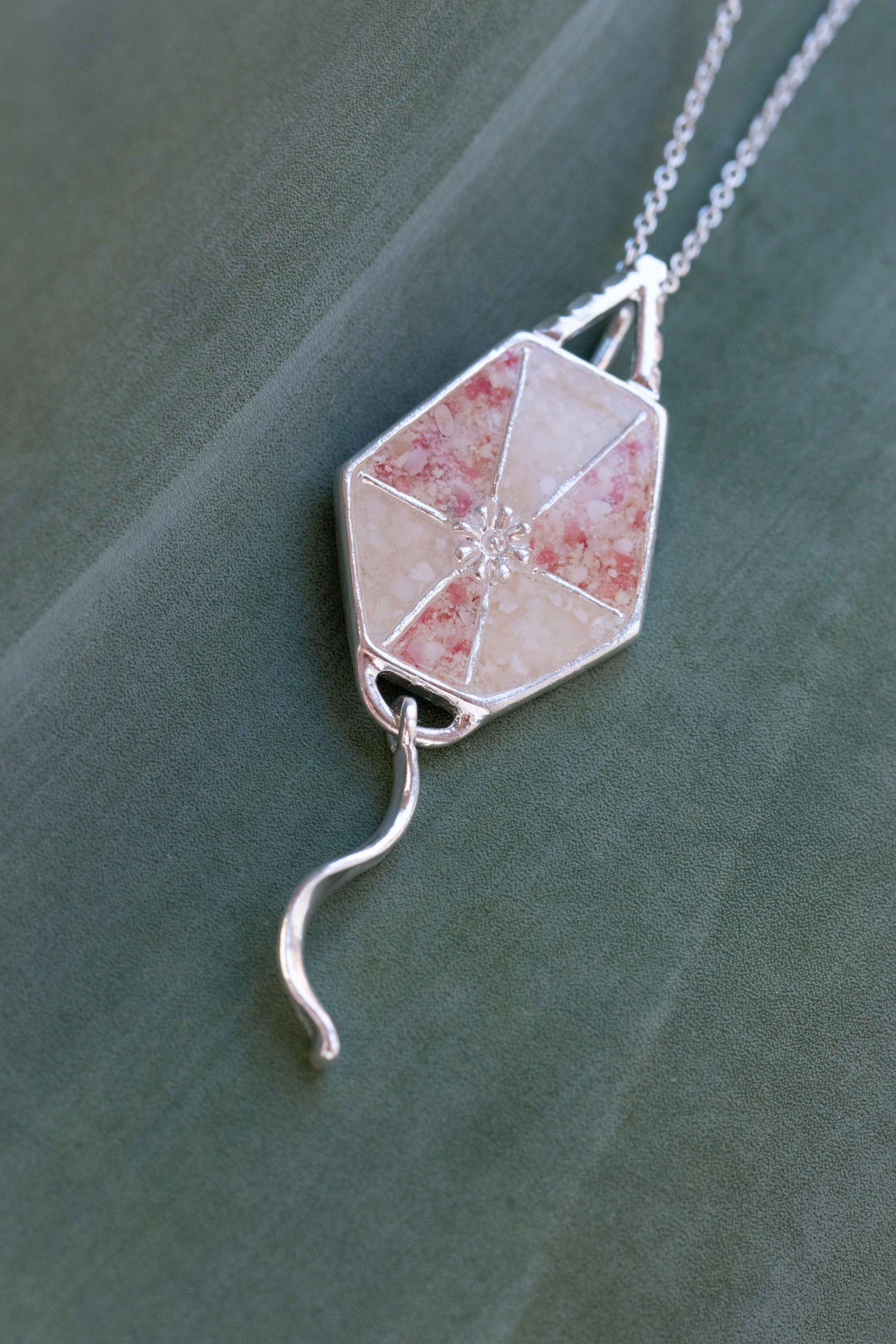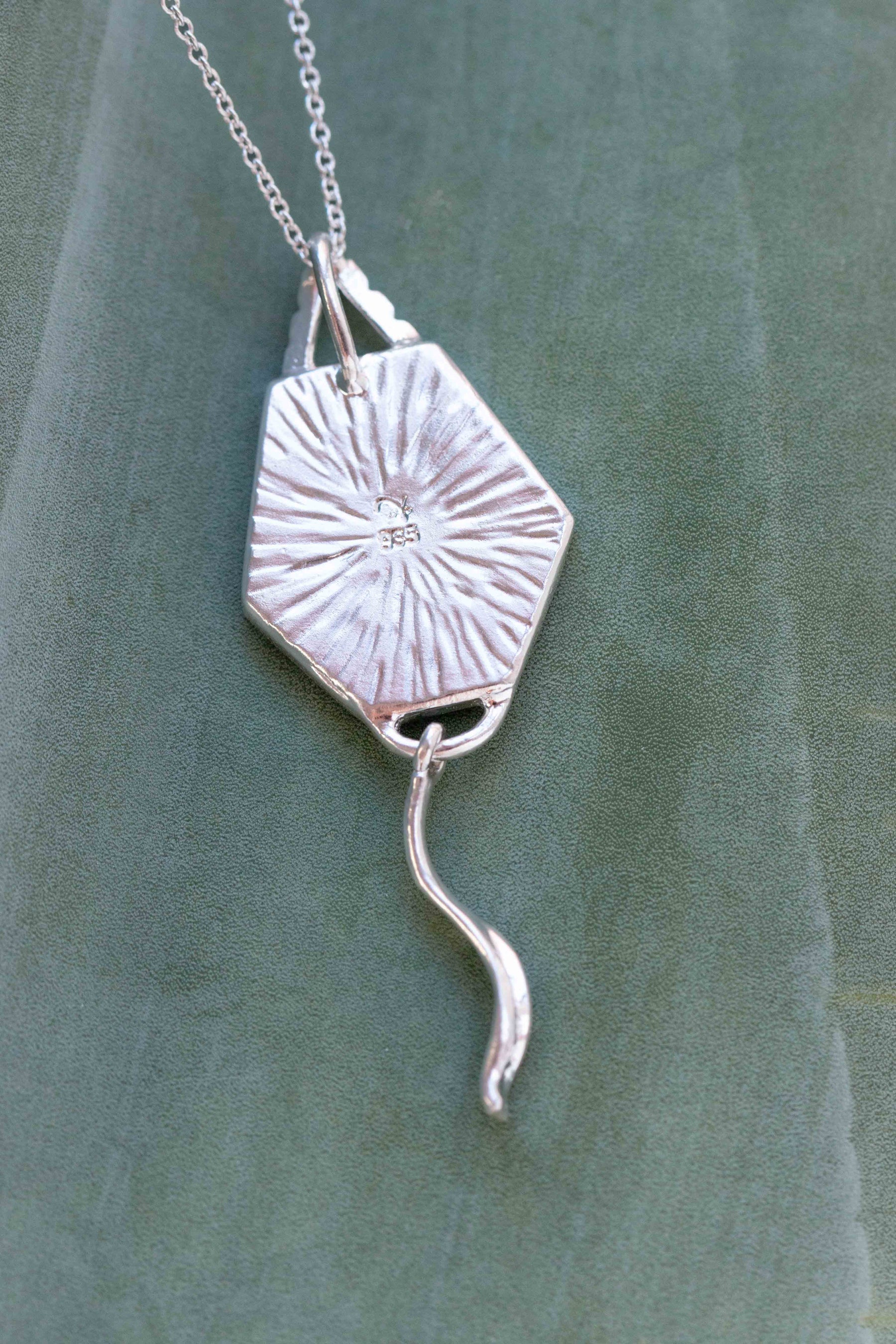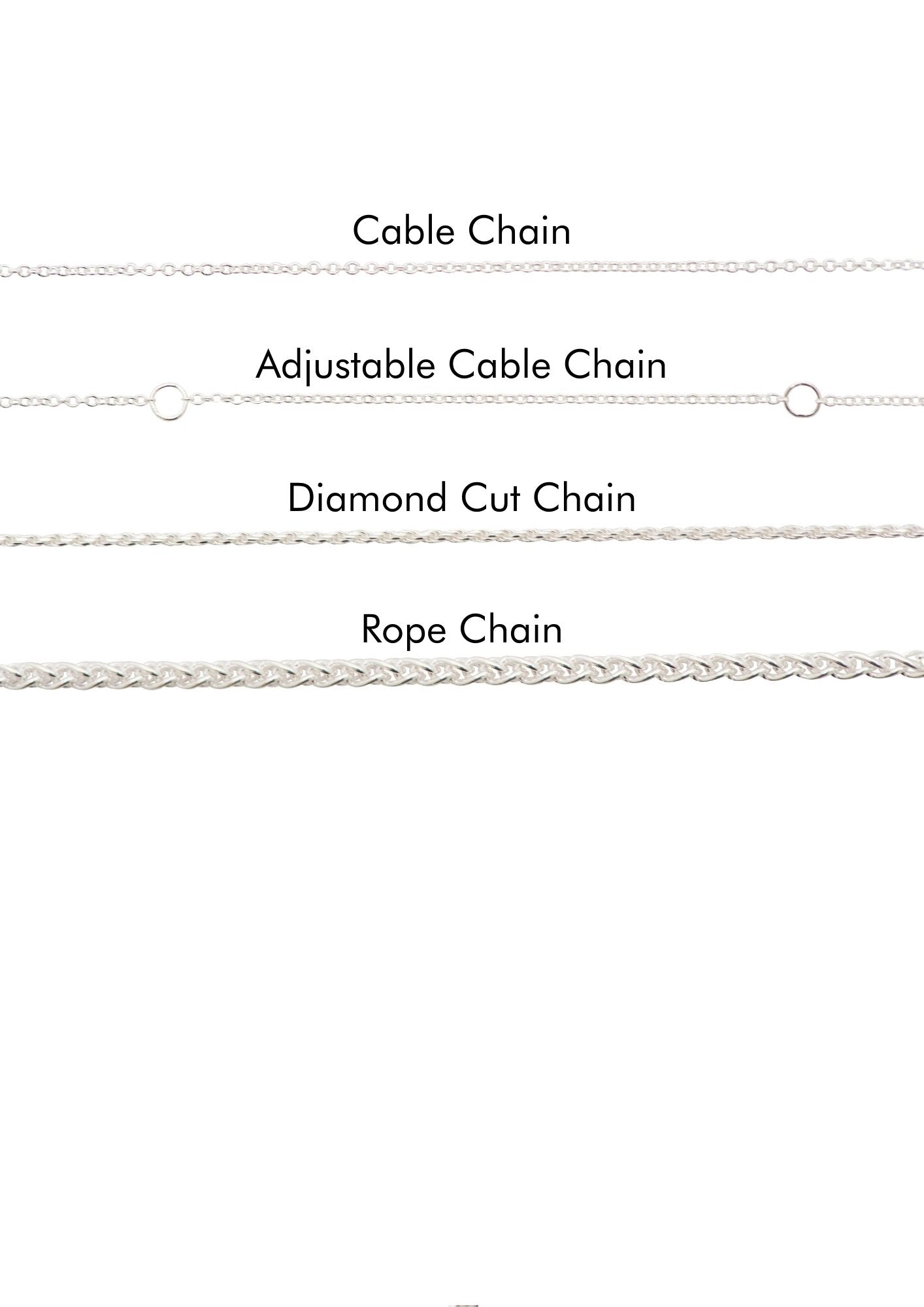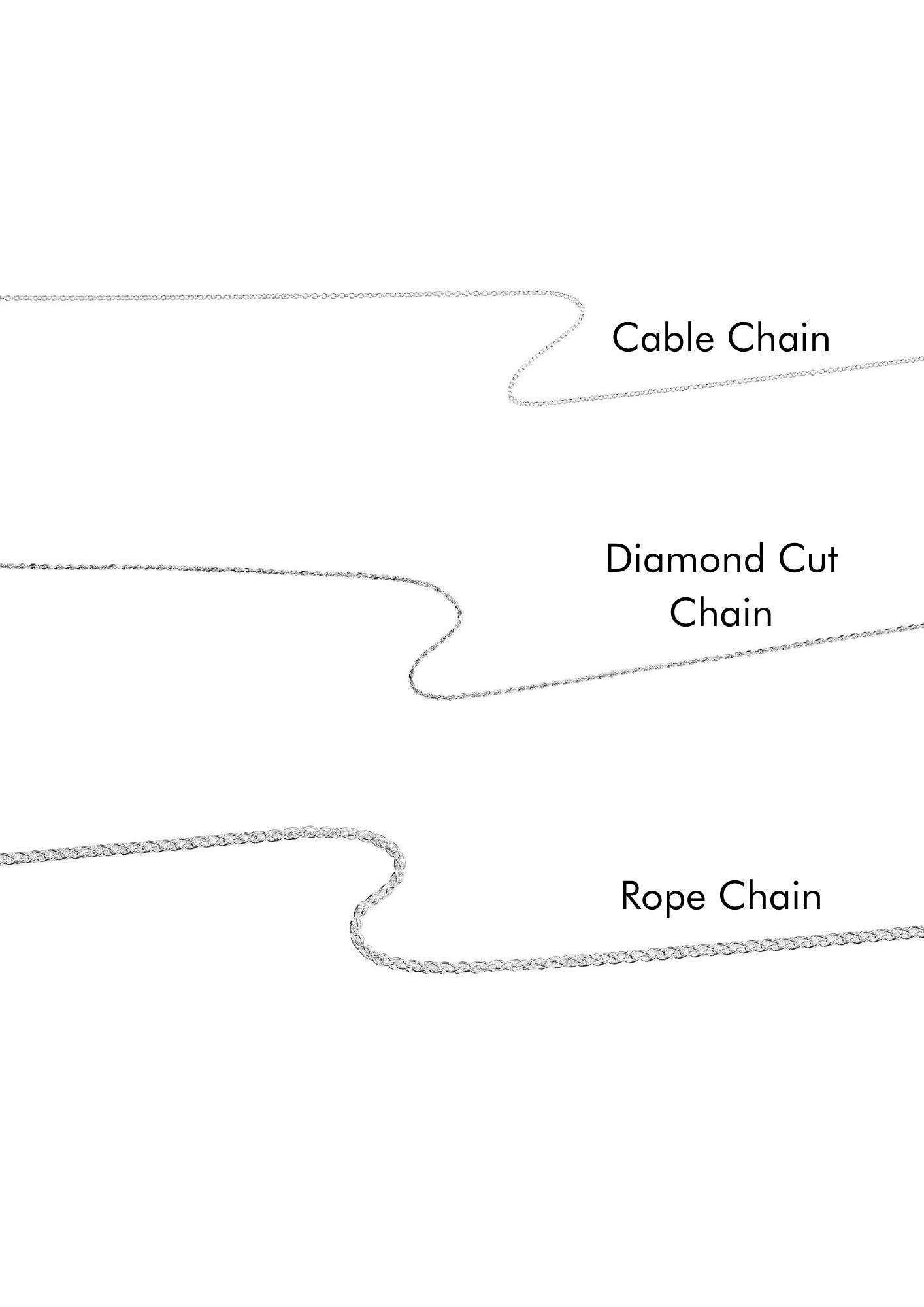 Icons ~ Kite Pendant
Pickup available at Flagship Store
Usually ready in 1 hour
Icons ~ Kite Pendant
Silver
Flagship Store
Pickup available, usually ready in 1 hour
5 Front Street
Hamilton HM 11
Bermuda
+14412369009
One of the most thrillingly beautiful Bermuda traditions is making a colourful tissue paper kite to fly on Good Friday. The craft is passed down between generations and is so important to our culture that the techniques are even taught in school. Nothing is as magical as seeing a sky full of stained glass window-like kites made from the thinnest tissue paper, string, and sticks, buzzing through the sky on Good Friday. The kite is one of the most charming symbols of Springtime in Bermuda.
This was my first design and the most challenging piece because I tend to favour flowy, organic shapes rather than geometric forms. At this stage, I was thinking about how much I liked using different coloured beach sands in my recent longtail ornament and showing off as much pink as I could in the kite's panels. I also wanted movement without fuss and determined that rather than a chain tail, which would hang straight and limp when not in motion, my signature "Melt"-style motif would be gorgeous hinged from the base. I chose to create a D-bail rather than add any more length to the design with a normal loop and ring bail. The textured hummers and flowery accent broke up the rigidity of the geometry in a Bermudaful way.
With little window panes for varying hues of pink sand, my kite sculpture took three attempts to get perfect! The frilly doily and sticks sit within the sand plane, the hummer hides the D-bail, and the signature Melt tail swings from the bottom of the piece.
Dimensions are 50 mm (h) x 18.7 mm (w) / 1.97 in x 0.74 in.
International Shipping
Yes! We ship all over the world with DHL and it's Free for orders over $150. We offer discounts and promotions all year, so sign up for our emails and stay tuned for exclusive deals.
International shipping via DHL usually takes 2-4 weekdays, but can take up to 10 days to some areas. Each shipment is insured, and you will receive tracking information via email.
Bermuda Delivery
Yes! And it's FREE! We have free next-day, island-wide delivery.
Absolutely! Simply select "Pick-up" at checkout, and it'll be ready within 20 minutes.
Returns & Exchanges
You may Return or Exchange your jewellery within 30 days of purchase. All merchandise returned for refund or exchange must be in perfect, sellable condition in its original packaging.  All returned items accompanied by an original receipt can be refunded to the original credit card used.  We will provide a gift card for the full value of the returned items when accompanied with a gift receipt, or if no receipt is available.  We will provide a gift card for the full value of the items returned beyond 30 days and up to 90 days of purchase.  No refunds or exchanges are available beyond 90 days of purchase.
If you wish to return or exchange your jewellery and you do not live in Bermuda, please drop us a message, providing us with the details of the item you are returning, your name, address, order number, and the reason for the return. We will then provide our return address and assist you in having the jewellery sent to us.  Exchanges will incur a $20 shipping charge for the new item(s).
You can contact us through our contact page! We will be happy to assist you.
Jewellery Care
Write content to help your customers to better understand your products or policies.
The secret to preventing tarnish on sterling silver is to keep it clean, store it sealed off from air, humidity and chemicals. Put your jewellery on after you have finished styling hair and makeup.  If the sterling does tarnish, use a silver polishing cloth or mild silver cleaner and dry thoroughly.  We highly recommend using "Goddard's Silver Dip" (which is available at Gorham's in Bermuda, or on Amazon worldwide) to keep your silver jewellery looking bright. Goddard's Silver Dip is great to use on our pink sand silver jewellery. Follow the instructions on the jar, and be sure to rinse the solution off entirely, dry your piece thoroughly, and if possible, store it in an air-tight ziplock bag when you are not wearing it.  
Your pink sand jewellery can be gently cleaned with water and hand soap and dried with a soft cloth. To protect against scratches, store your pink sand jewellery wrapped in tissue or cloth to protect it.  It's best to not submerge your Alexandra Mosher Studio Jewellery pieces in water for a long period of time. We recommend taking it off before bathing, showering, or swimming.  
Gently wash your pieces with gentle hand soap and an old toothbrush to remove dirt, rinse well and dry completely with a soft cloth. Maintain your jewellery's shine by avoiding contact with agents such as perfume, lotion, makeup, hair & cleaning products. Always remove your jewellery before swimming and exercising. Store your gold jewellery in its pouch or lined box when you're not wearing it. If your design has prongs, please have them checked every year either by us or a jeweller in your area.